DogWatch by Arkansas Pet Safety Systems
Our DogWatch dealership proudly services Central and Southern Arkansas and the surrounding area.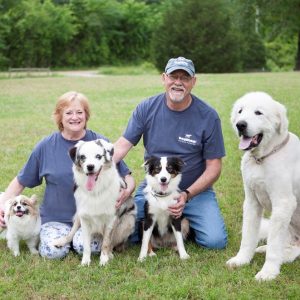 Jim Whitten
https://www.dogwatchbypetsafety.com
About us:
Jim and Jan Whitten reside in Hot Springs, Arkansas with their four dogs, Bucky, Brodi, Breezy and Kodi. As devoted dog lovers and breeders of Australian Shepherds, they've committed themselves to helping people keep their pets safe at home.
After weeks of research for the right pet containment system, they purchased a Dogwatch system for themselves, then proceeded to open a Central and Southern Arkansas DogWatch dealership, and quickly became involved with DogWatch in their community.
Jim, a Veteran, and Jan bring years of combined sales, operations & customer service experience to their business. Their primary company philosophy is to deliver the highest quality and value to keep your pet safe at home. From the product itself, through the fence installation and training of your pet, to the service after-the-sale, there's not another company that delivers as much quality than DogWatch by Arkansas Pet Safety Systems.
Let us show you how to keep your dog safe at home.
From our customers:
Amazing! No fence to block my view or mow around. Dogs are secure and happy, wish I had done this sooner! Thanks Jim!
Missy Davis