Not every place is a pet place
Our indoor pet fences work wherever you need them, quietly, effectively, and hidden from view. A harmless, noiseless signal lets you control where your pets roam in the house. You can use the same collar with both the indoor fence and the outdoor fence, so it is a great way to expand the value of your outdoor pet containment system.
MB-1 Indoor/Outdoor Mobile Dog Fence
This versatile battery-operated mobile boundary can be used either indoors or outdoors to create a pet-free zone. It is waterproof for outdoor use and it has a rechargeable battery. It is wireless (used without a boundary wire), so it is easy to set up wherever you need it. The MB-1 creates a pet-free zone up to 8 feet in diameter (4 feet from the center). If you want a portable boundary that can be used anywhere to protect a small area (trash, counters, furniture, flower gardens, sandbox, etc.), this is a perfect choice. Works with all DogWatch FM receivers.
MB-2 Dual Function Indoor Dog Fence
The MB-2 is our most flexible mobile solution to keep your pet safe inside. This transmitter can be used either with or without a boundary wire. You can install the MB-2 with a wire to protect a large defined indoor area or you can use it without a wire for greater flexibility to protect smaller areas up to 13 feet in diameter (6 1/2 feet from center). Works with all DogWatch FM receivers.
Weather resistant
Indoor or outdoors, we've got you covered. Waterproof and tough, the MB-1 is designed to withstand rainy days, the sun's rays and even splashing pups.
Portable
Set boundaries, anywhere you go! The wireless MB-1 can be moved from one no-go zone to another depending on your needs and your pet's behavior.
Long-Lasting Battery
Set and it and forget it! The MB-1's rechargeable battery can last up to 30 days on one charge.
Adjustable
The size of your no-go zone is flexible and customizable! Use the MB-1 to set a big boundary around your garden bed, or a smaller boundary around the kitchen island.
How do I buy an Indoor Pet Fence from DogWatch?
Our wired and wireless indoor pet fences are sold directly by our family of Authorized Dealers. Search for your Local Dealer today to learn more about Indoor Pet Boundaries: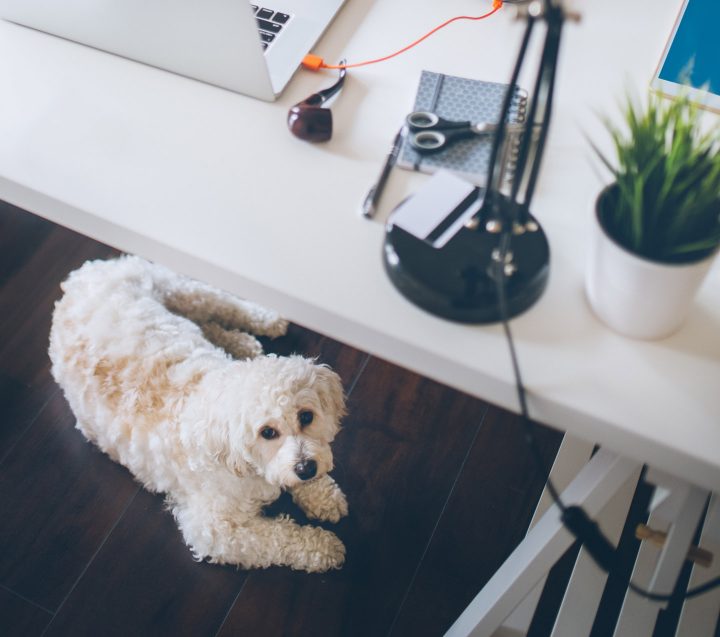 Customer Story
"We can now keep the dog out of the cat box and from eating the cat's food and keep the cat off of the kitchen counters and at an appropriate distance from the kitchen table. It was easy to set up and our pets adapted nicely. It's a perfect solution, thank you!"
JG, Burlington, Vermont