The perfect balance of performance & price
The 1200Fence offers the safety, reliability and quality of our industry leading ProFence system, with just a few less features. Now you can get all the technology and performance you've come to expect from DogWatch in a more economical package.
SafeLink®
Our patented digital SafeLink® FM technology provides the maximum protection against false activation caused by stray radio signals. FM technology is less prone to interference than the AM systems used by other brands, and that makes DogWatch the most secure hidden fence available.
FastReact®
DogWatch has the fastest reaction time in the industry. If your dog runs at the boundary, the receiver reacts with the warning signal before he reaches the wire, not while he is traveling over it.
Receiver Status Light
The unique multi-function status light on the receiver lets you know if the battery is low or needs to be replaced.
Flexible Training Levels
The 1200Fence receiver collar includes 4 easy to understand and adjust training levels plus an 'audible only' feature to ensure safe and appropriate training and containment for your pet.
GentleFit™ Contact Posts
These unique contact posts are easy on your dog's skin. They are smooth like our standard stainless steel contact posts to minimize friction and low profile for a comfortable Pet-Friendly fit. Purrfect for cats and dogs with short coats.
High Impact, Waterproof
The DogWatch receiver is tested to withstand the harsh outdoor elements of rain, sleet and snow . . . as well as rigorous play!
Range Setting
You can easily adjust the width of the signal (the 'signal range') on your 1200Fence to meet the needs of your pet and the size of your yard. If there is a wire break, there is also a warning alarm that alerts you to check the system. This is an invaluable safety feature for underground fences.
Lightning Protection
DogWatch Hidden Fences include the very best lightning/surge protection available as a standard feature. External protection directs power surges and lightning away from your home; internal protection suppresses surges coming in through your house wiring.
Easy For You
We keep your pet safe and are safe for your pet with our exclusive SafeLink® FM technology and settings that can be individualized for all breeds, ages and pet personalities.
Proven Training Program
All DogWatch Dealers provide on-site training using a safe and effective training program that includes visual recognition of boundary flags, learning to retreat from the audible (or vibration) warning signal and learning that there is an unpleasant sensation if they cross the boundary.
Flexible, Affordable Containment Areas
Over the river and through the woods? Backyard only . . . but not the pool and flower garden? Create a swimming area in the lake? It can be done. A hidden fence is more flexible and less expensive than a traditional fence. And your dog can't jump over, dig under or chew through a hidden fence!
Works for Cats (and more!)
All DogWatch products are effective for cats, too! Create an invisible boundary that keeps your cat in your yard and out of the kids' sandbox. You can also create an indoor cat fence to keep kitty off the kitchen counter, away from your new sofa and out of the baby's room.
Longest Battery Life
All DogWatch Hidden Fence collars have a longer battery life than other brands. The R12 collar has a battery life of up to 2 years and our R12mini has a 6 month battery. Other brands usually need a new battery every to 3-4 months. Fewer batteries are good for your wallet and better for the environment. And, most importantly, safer for your pet!
Lifetime Equipment Warranty
Our Hidden Fence products are built to last. We offer a no-nonsense Lifetime Equipment Warranty on all our Dealer installed hidden fences, including the 1200Fence.
30-Day Money-Back Guarantee
We work hard to make sure DogWatch products are the best in the business. We back that up with a 30-day money-back guarantee on our equipment. We want to make sure your pet is safe and you are happy with your purchase!
How do I buy a 1200Fence?
Our Hidden Fence systems are sold exclusively by our family of Authorized Dealers. Search for your Local Dealer today to learn more about the 1200Fence:
The reviews are in, people love DogWatch.
Room to roam
We tailor our system to your needs. Our indoor fences can be customized to keep your pet inside the areas you want them, and away from areas you don't, such as furniture, dining rooms, kitchen counters, trash cans or any other "off limits" areas. Click below for sample configurations.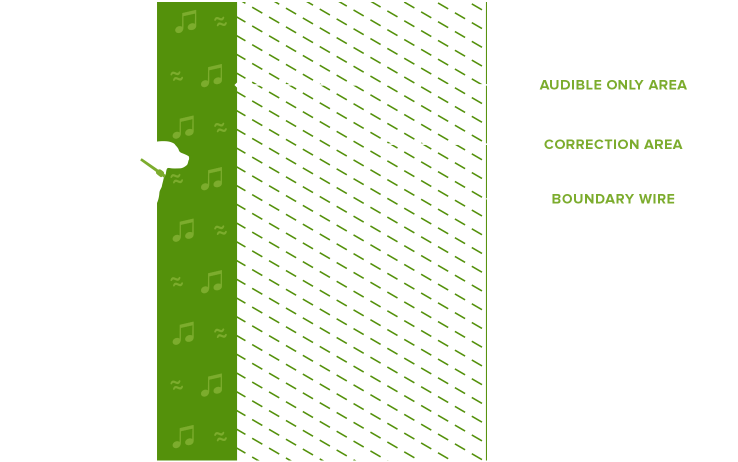 Customer Story
We love the freedom we have with our DogWatch fence! We don't have to worry about our dog going to the off limit areas of the yard. We love it so much we added indoor barriers as well.
Mechelle B.
Frequently Asked Questions
How do hidden dog fences work?

How does my dog learn where the hidden fence boundary is?

Will the stimulation from a hidden fence collar hurt my dog?
How much do hidden fences cost?

Where are DogWatch Dealers located?

What else do I need to know about DogWatch?