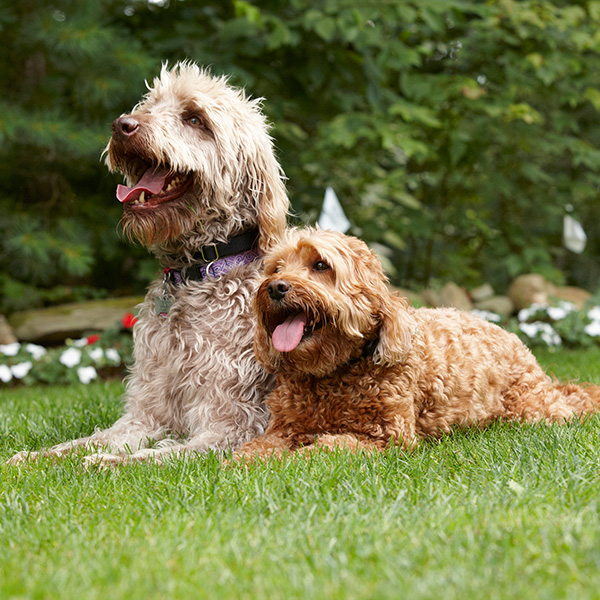 How can we help?
Not sure if this is your local dealer?
Our Products
We're pet owners, too! Comfortable, safe and effective, our hidden dog fences, indoor pet boundaries and dog training products are designed with our families and our own pets in mind. Our products work for pets of all ages, shapes and sizes - click to below explore!
What makes DogWatch the safest, most reliable Hidden Dog Fence?
Two-Year Battery Life
All DogWatch Hidden Fence collars have a longer battery life than other brands. Fewer batteries are good for your wallet and better for the environment. And, most importantly, safer for your pet!
Pet-Friendly™ Training
We provide on-site training for your and your dog. Our team will guide you through our PetFriendly™ training techniques to guarantee your dog's success and safety.
Lifetime Warranty
Our hidden dog fences are built to last. We offer a no-nonsense Lifetime Equipment Warranty on all our outdoor containment products, so you will never have to compromise your pet's safety.
Patented FM Signaling
DogWatch is the ONLY hidden fence that uses an FM frequency; all other hidden dog fences operate on an AM signal. Our patented digital SafeLink® FM technology is the cleanest, safest, most consistent signaling on the market today.
Advanced Safety Features
DogWatch Hidden Fences include exclusive safety features such as AutoMemory®, TattleTale® and FastReact® – not found in other brands. For more information, give us a call to ask for a demonstration!
Customizable Training Settings
All dogs are different. Our products offer multiple levels and settings to fit your pets' needs. Plus, you can adjust your hidden fence's settings yourself – without an expensive service call fee!
About Us
Our DogWatch dealership proudly services Sioux Falls South and the surrounding area. We chose DogWatch because DogWatch has a superior product offering. We love working with animals and we hope to have the opportunity to help keep your pet safe.
If you need an electric dog fence for your pup there's no better option than Dogwatch. We have used them for many years at two homes and could not be more pleased with their service, pricing and professional approach.
Larry Toomey
What Our Customers Say
Don't just take our word for it; see what pet lovers just like you have been saying about working with Michaels Fence. We hope to have the opportunity to make you another one of our satisfied customers.
If you're an existing customer, please let us know how we're doing!
Experience the DogWatch Difference
Longest battery life in the industry
Lifetime equipment warranty + 30-day money-back guarantee
100% locally owned & operated
Compare DogWatch® to Invisible Fence®
Our "hidden fences" are often mistakenly referred to generically as "invisible fences." Invisible Fence® and Invisible Fencing® are Brand names, products and registered trademarks of Invisible Fence, Inc.
How do hidden dog fences work?

Will the stimulation from a hidden dog fence collar hurt my dog?
How does my dog learn where the hidden fence boundary is?

How much do hidden fences cost?

What else do I need to know about Michaels Fence?